A cold, long ride: driving a tractor to Antarctica's Concordia station
After a busy summer on the Antarctic ice, a number of IMAS, Antarctic Gateway Partnership (AGP), and ACE CRC staff and students have returned home to Tasmania. This is the third in our series of stories about their projects and experiences (All photos: Miranda Nieboer).
At the invitation of the French Polar Institute IPEV (Institut polaire francais Paul-Emile Victor), PhD candidate Miranda Nieboer joined a supply convoy to the remote French-Italian Antarctic research station, Concordia.
Concordia is 1100 kilometres from the nearest research station at the coast and located inland at an altitude of more than 3200 metres.


Leaving the French base Cap Prud'homme near the coastal research station Dumont D'Urville on 19 January, the traverse RAID63 included nine men and two women and eight tractors, towing a cargo of fuel tanks, containers with scientific equipment, food and living units.
"The first few days I just couldn't believe I was driving a tractor in Antarctica," Ms Nieboer said.
"It took some time to get past the bizarre, constant thought: "I'm driving a tractor. In Antarctica!"
"What do you do for 11 hours each day in a tractor, for 11 days to get to Concordia station? It's boredom but at the same time sheer excitement.
"How do you pass the long hours on your own in a tractor? Music. More music. Door open, door closed. Window open, door closed. Singing aloud. Eyes on the track and staying on the track. Taking pictures. Chewing gum. Chewing more gum. And keep staying focussed."
"Antarctica is known as the continent of peace and science but joining the traverse also showed me about the importance of logistics there, to support science but at the same time to make human life sustainable in the continental interior. In order to stay alive in Antarctica you have to move, you need movement.
"It's a non-human environment. In one way we were not meant to be there, but at the same time there's so much to learn from Antarctica and share with the rest of the world."
Ms Nieboer's interdisciplinary research is looking at 'Antarctic Interiors', moving between Antarctic studies, literature and architecture while exploring interior spaces and interiority in the extreme context of Antarctica. The project is supervised by Associate Professor Elizabeth Leane (IMAS/Humanities) and Adj/Professor Stephen Loo (UNSW).
The journey to Concordia offered Ms Nieboer a unique opportunity to explore various interiors on different scales: the tractor cabin, the mobile living units, the more permanent interiors of the research station, the vast space of the continental interior, and the personal experiences of the traverse team. She recorded her journey by taking pictures, video and field notes.
"In the interior so many things happen and are literally in movement. There's a time when you're waiting, waiting, waiting, preparing for action. And then things start to go in a hurry. Time both contracts and expands, accelerates and slows down.
"In Antarctic stations and on the traverse there are periods of monotony, and there are moments of sudden change. You have to move straight away, with the full-on tension of getting organised in a safe and quick way.

"In my tractor I moved between two stations. The convoy moved goods. On the traverse I moved daily from container to container unit. Meeting support personnel and researchers of different nationalities, I moved between various professional fields and research disciplines in Antarctica.

"Antarctic time and the movements experienced on the journey inform my research. Antarctica helps me to rethink the notion of interior, which is conventionally thought of as fixed and stable."
Concordia Station on Dome C is remote, even by Antarctic standards. It's so isolated that space scientists from the European Space Agency use Concordia to study the effects of extreme isolation and confinement on humans, in preparation for space travel. Concordia can be regarded as an earthly equivalent of a space station.
Joining the traverse RAID63 has certainly had a lasting impact on Miranda Nieboer.
"The word amazing doesn't even cover it.
"I drove 11 hours a day for nearly 11 days in a tractor to get to the Antarctic interior in -47 degrees.
"It was incredible to be there. A privilege. And, as expected, hard and tough. So many experiences all in the same time, that it is hard to describe.
"I loved it!!"
Click to watch the video of a 2017 traverse to Concordia Station by film-maker Frederique Olivier.
---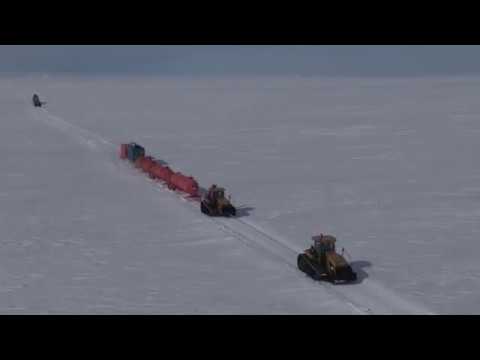 ---