Pacific Oyster Mortality Syndrome (POMS) caused by the OsHV-1 virus was first detected in Tasmania in January 2016 with mass mortalities of cultured Pacific oysters on farms in several major oyster growing areas, including Pittwater, Pipeclay Lagoon, Blackman Bay and Little Swanport. Prior to this outbreak, Tasmanian oyster farms produced around four million dozen oysters per year with an estimated farm gate value of $26 million, and Tasmanian hatcheries were supplying approximately 90% of the oyster spat grown on farms in Australia.
Because the POMS disease event in Tasmania was unexpected, limited data are available on environmental conditions during the disease outbreak to support the development of an early warning system for farmers. In this project we will collect environmental data, both in real time and for post event analysis, to determine the period of infection and associated environmental conditions.

Tasmanian farmers also need support in developing new management techniques that maximise survival of oysters in POMS infected areas. Different techniques have been developed in other countries, such as exposing large quantities of spat to the virus and ongrowing the survivors, or determining the most cost-effective size and/or time of year to introduce spat to farm growout conditions. Our research will support Tasmanian farmers to modify their current farming practices to maximise production in the event of an OsHV-1 incursion. This work will complement the development of genetically selected POMS resistant oysters and will provide added assurance to oyster farmers that Pacific oyster aquaculture will continue to be a commercially viable industry in Australia.
Featured video - Oysters in Hot Water
This video features researcher Dr Sarah Ugalde, who this summer worked with her IMAS colleagues Dr Christine Crawford and Lewis Christensen on a number of research projects aimed at improving understanding of the disease and developing the most effective responses to it.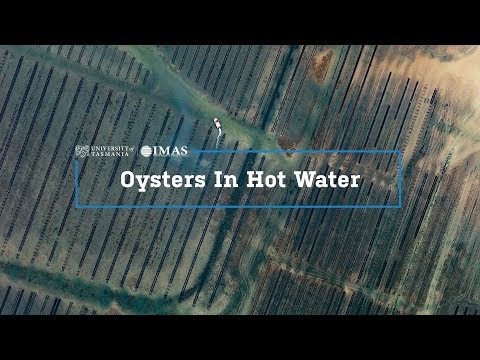 ---
News
The challenges faced by Tasmania's oyster industry due to recent outbreaks of Pacific Oyster Mortality Syndrome (POMS) are outlined in this ABC story.
Reports and Publications
IMAS newsletters, reports and publications about our oyster research are available on our Publications and Resources page.
Interested in this project?